Oh the weather in Vancouver, one of the many things people who live here like to complain about (I say this as I write you from my very hot Airbnb in NYC). This summer has admittedly been an odd one though. We're right into August and we've barely seen a week of hot weather. If you live here, you make peace with – and hopefully – get used to how bi-polar mother nature is; cold in the morning, hot mid to late afternoon, cool again in the evening. The changing temps require light layering so you can work with mother nature, not against her. For a more symbiotic relationship, you just need to learn a few styling tricks. Ahead I'm sharing a few favourite outfit formulas I spotted for the mid-temps of Vancouver summer.
Linen dress + choker + cross-body bag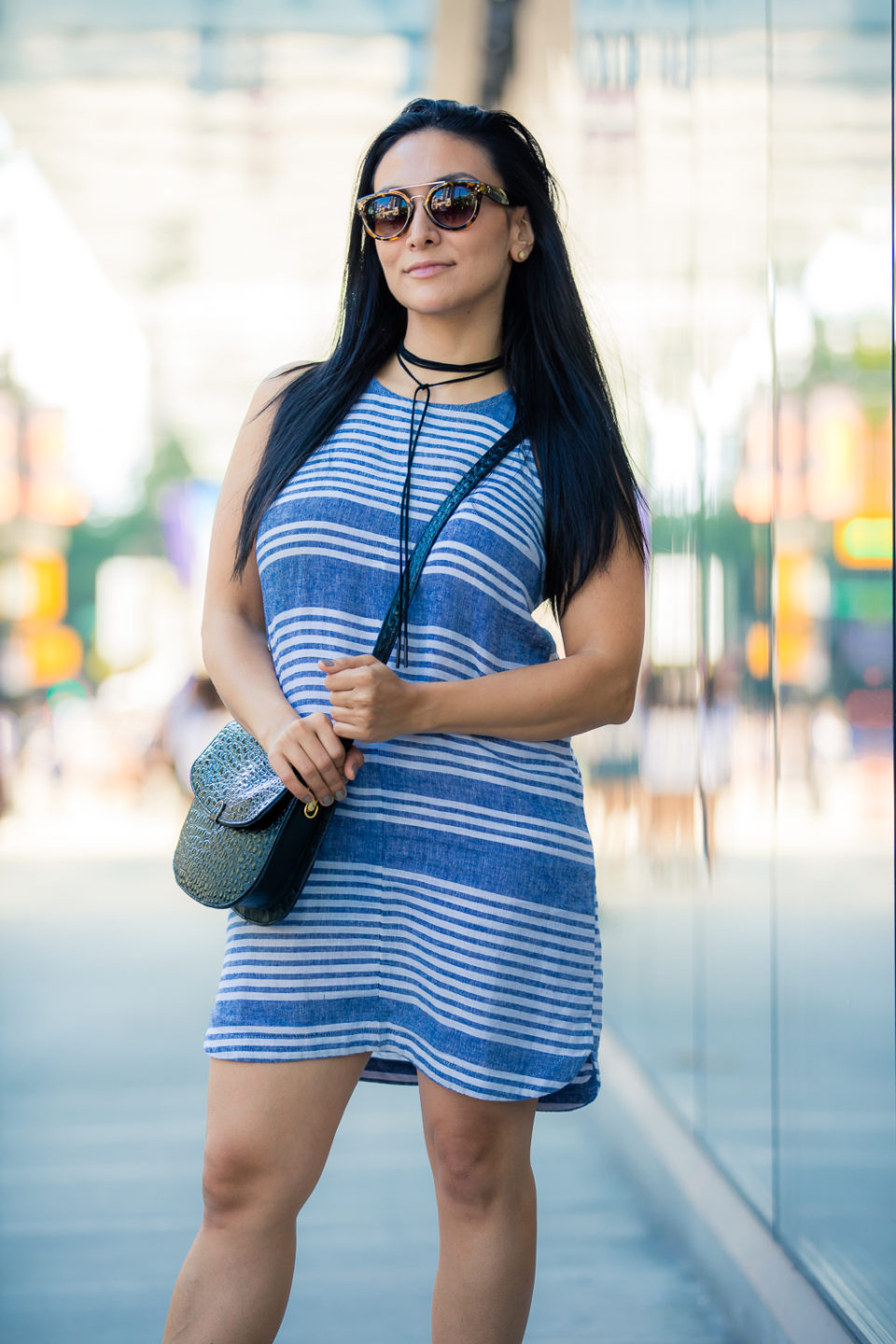 I spotted my friend Mana wearing this blue + white striped linen dress while shooting a Snap for a TV styling segment she was prepping. The light linen material is perfect for warmer days (more styles here) because you can just throw it on and go. I love how she paired it with a choker and cross-body bag.
White tee + aviators + Converse + duffle bag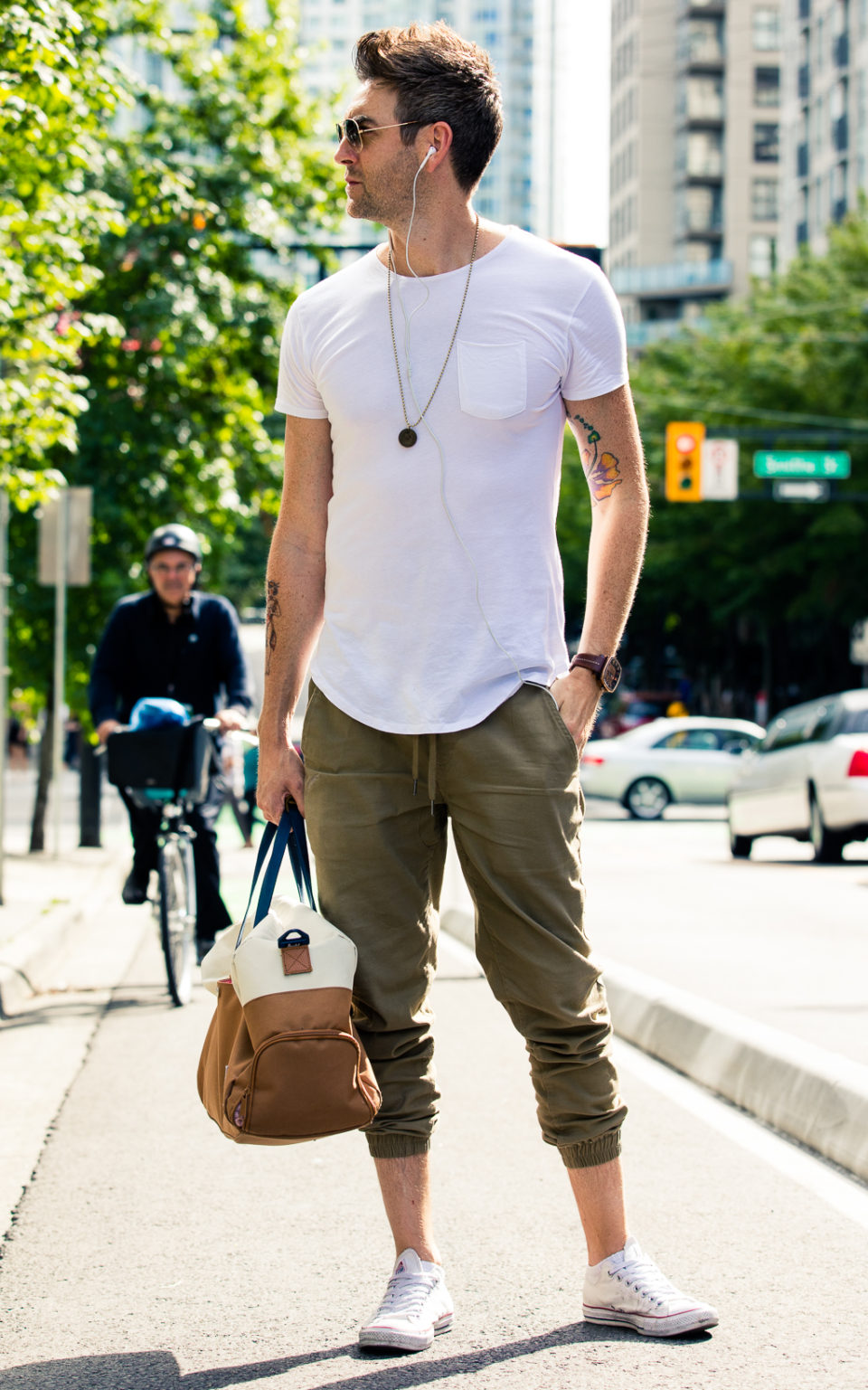 Well-dressed men in Vancouver are few and far between. And when I say that, I don't mean to say that guys should be dressed UP or over-styled. Guys…take it from a Vancouver gal…you can never go wrong with a simple white tee, aviators, Converse, and a sharp duffle bag. Accessories aren't just for women, they go a long way on men as well.
Baseball cap + leather bomber + sweater + a-line skirt + booties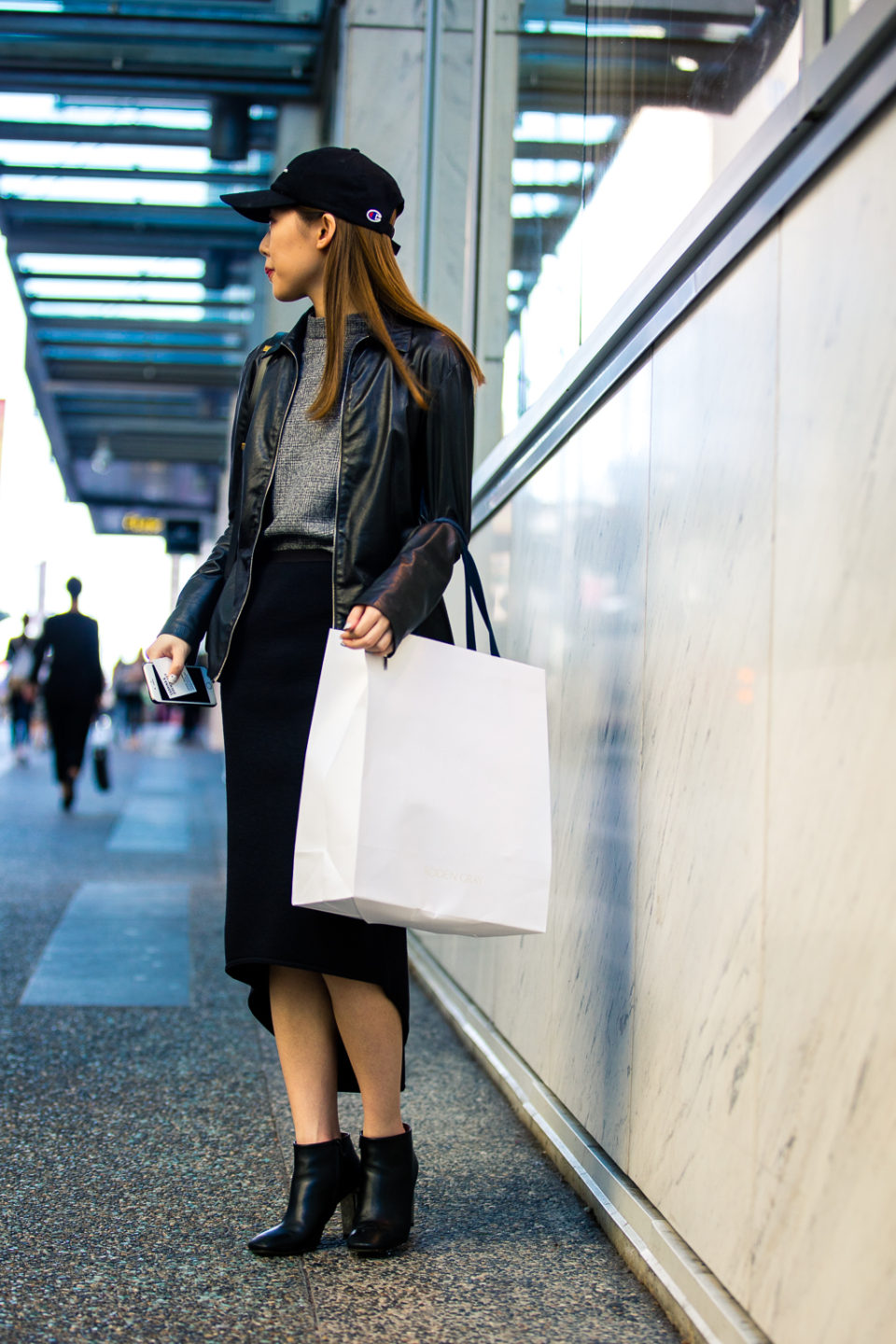 Want to mix up that same old midi skirt and booties? Modernize the look by adding a sporty twist to it. Don't get me wrong…a midi skirt will give you a TON of mileage, but sometimes we forget how easy it is to switch up the outfit formula. I love the unexpected addition of a baseball cap…plus the whole look feels accessible with a sweater and leather topper layered over top.
Button-down top (half-tuck) + denim shorts + Converse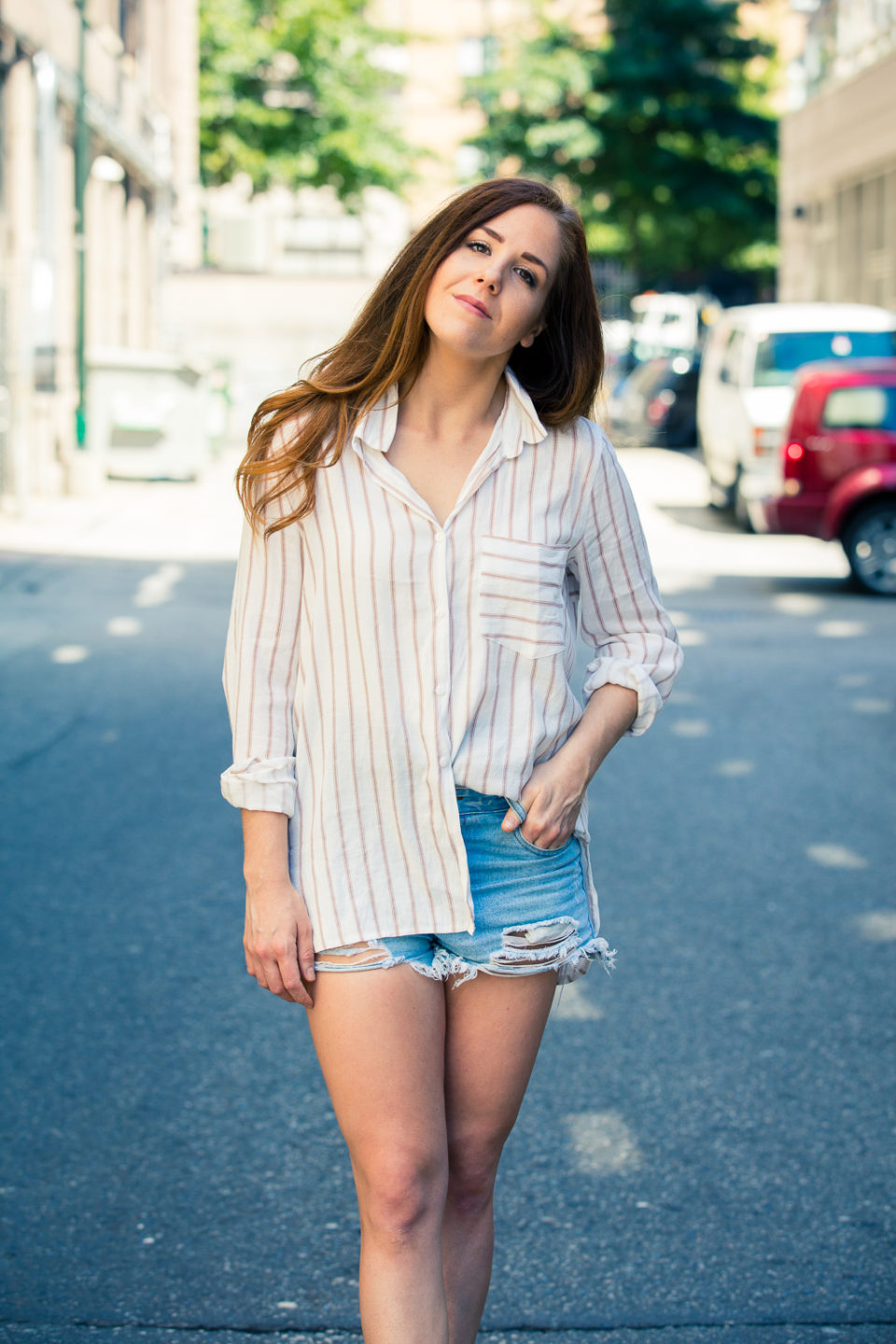 When I'm not sure what to expect with the temperatures in Vancouver, I always reach for a lightweight button up (a few more styles here). They work perfectly for Fall too…and the lightweight material helps you achieve that perfect half-tuck.
Linen shirt (loose) + skinny jeans + booties (dipped)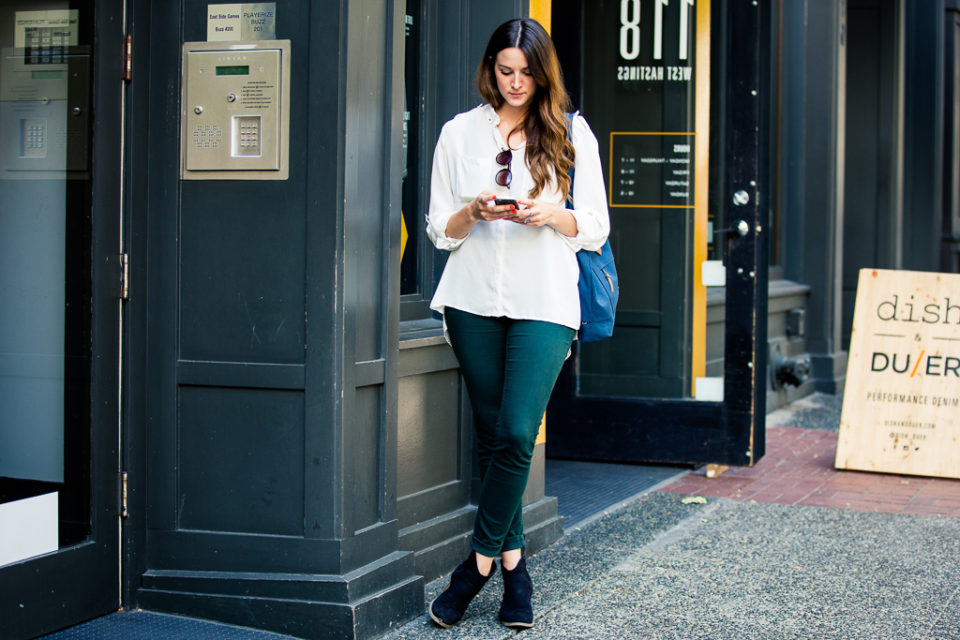 Another cooler day in Vancouver brought out the skinny jeans and booties. These booties (a few similar styles here) are actually perfect because they dip down at the front to reveal your ankles just a tad. This subtle styling adjustment is very flattering…it makes all the difference with proportions and achieving the perfect head to toe look.
Bomber jacket + trousers (casual)
Bomber jackets! For men AND women, for summer, for fall, whatever…I absolutely love them. While my leather and duster are my go-to's, I can't bring myself to wear them in the warmer temps. The bomber is the perfect option when you just need a lightweight, no-fuss layer. I just picked up a washed out pink version for myself…but I'm also digging the styles that have a heavier weight to them.
Tank (heavier fabric) + high-wasted denim + booties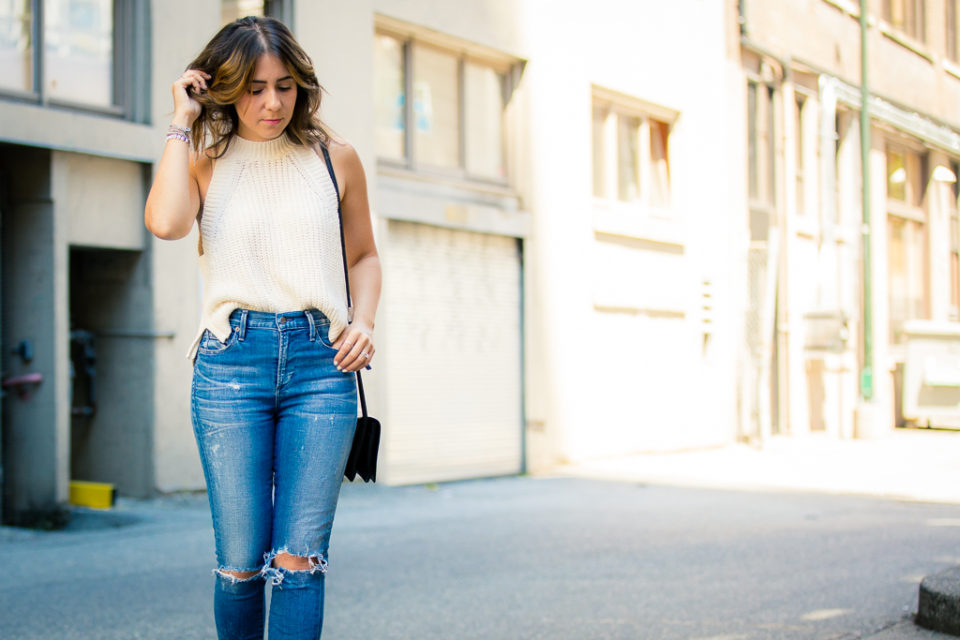 I just bought this vintage-inspired knit…and I couldn't be happier with it. I love the high neck and overall cut of the top. It has a heavier weight, which is perfect for those sort of half-summer days (or layer it under a leather, bomber, or duster for fall).
Shirt-dress (loose) + cross-body bag + wedges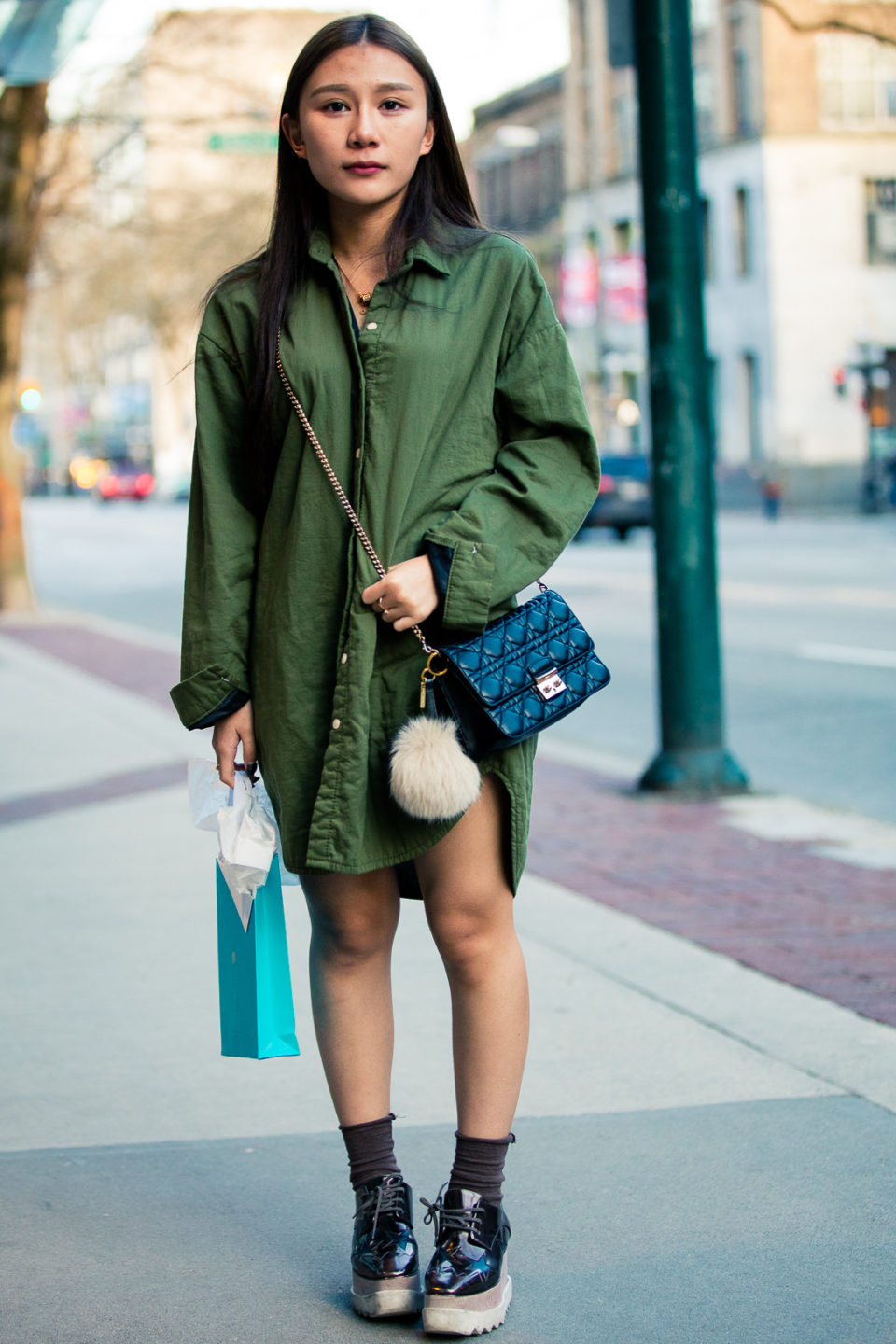 What's easier than throwing on a loose-fitting shirt dress? The look feels complete with a cross-body bag, charm, and wedges with socks. I've seen this shoe-sock combo popping up on everywhere on the streets…and I just love the added punch that it gives an outfit.
Off-the-shoulder top + ripped denim + flats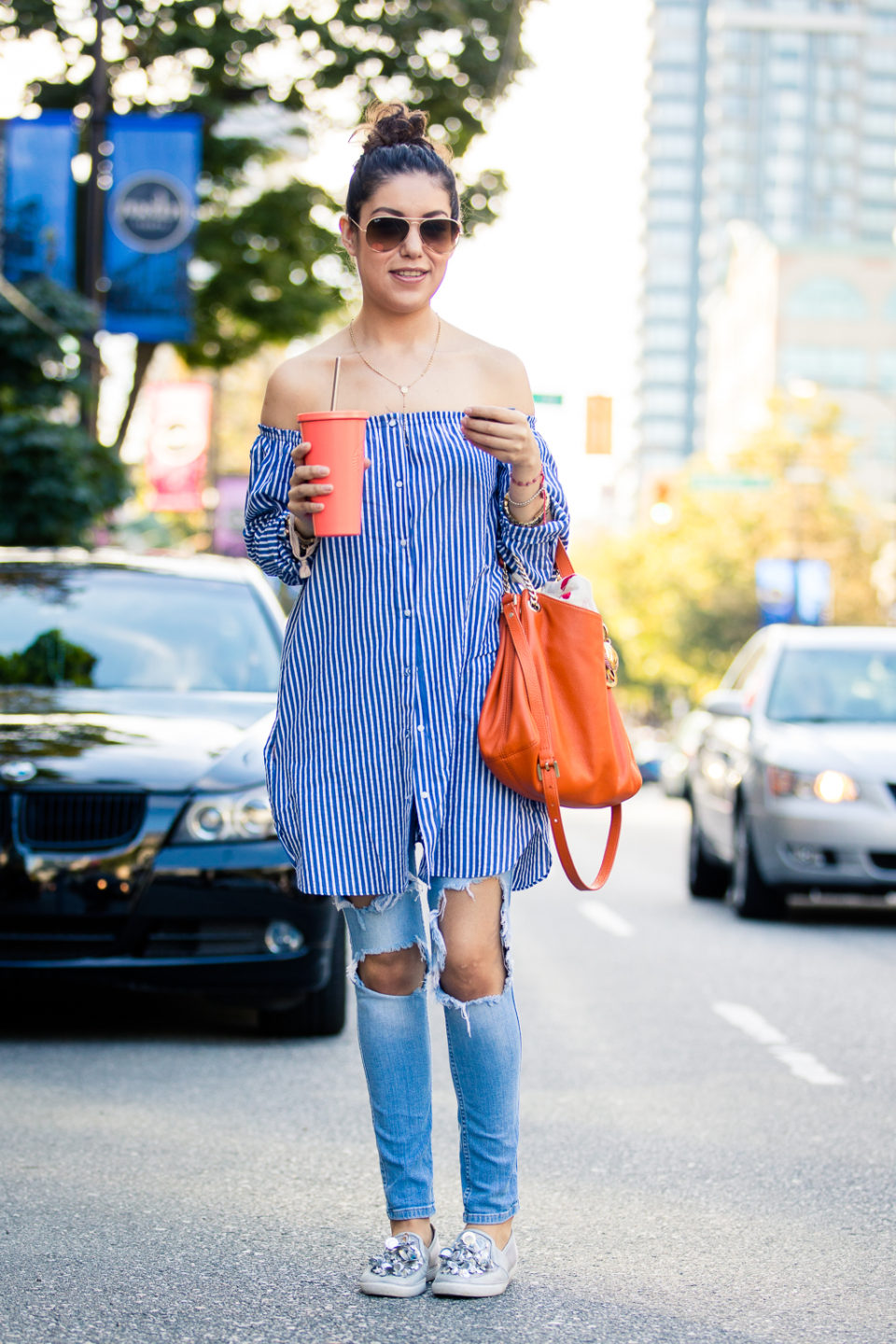 If there's ever a time to rock the off-the-shoulder top, it's obviously summer. And it's not too late! September should be just as warm, if not warmer than August. This top looks just as great in stripes as it does in solid colours. It adds that flirty vibe without revealing too much.
Dress and tank (sporty) + necklaces (layered) + wedges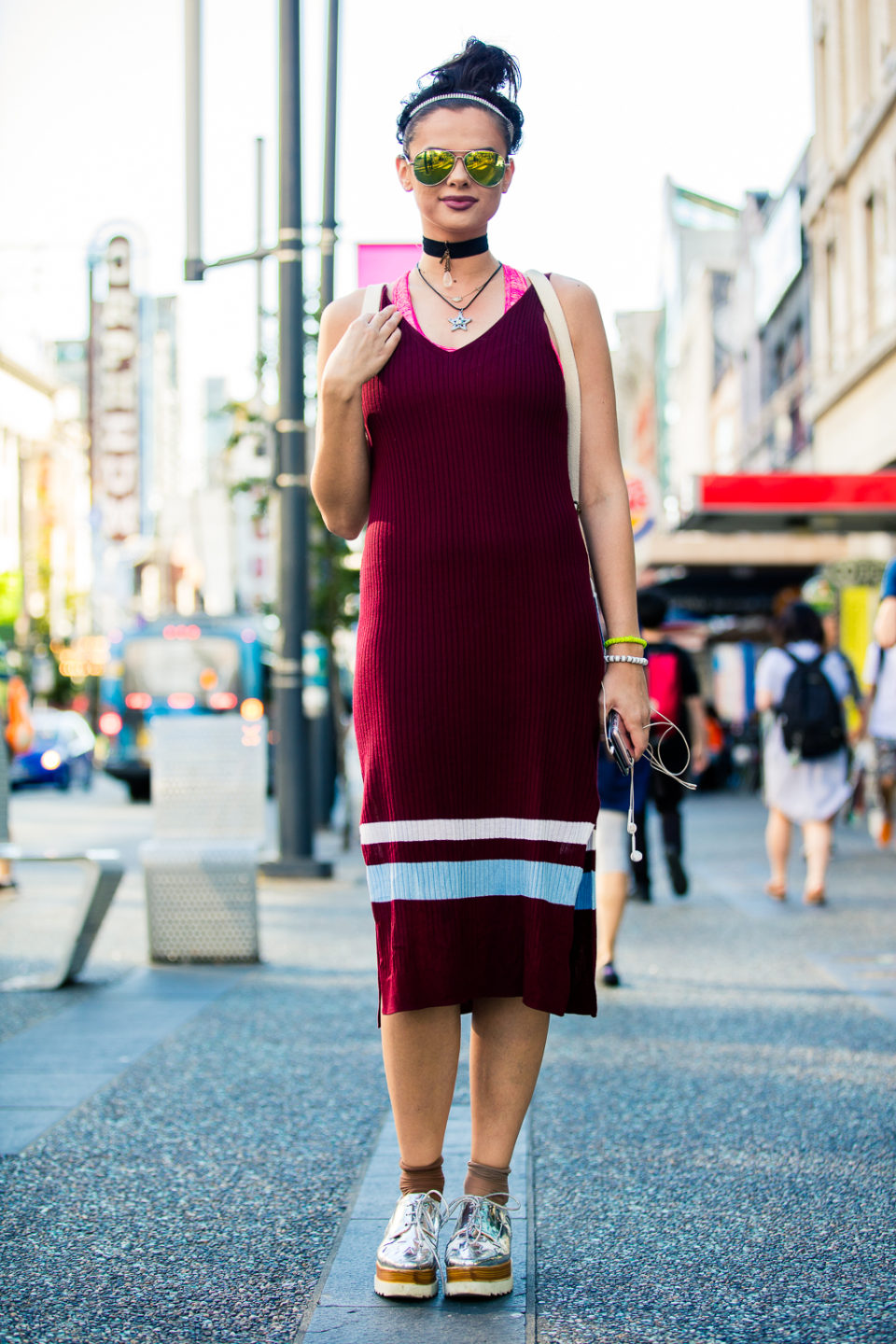 Last but not least, where do I even start with this look? I love it all! Chokers are so fun this season…and since my signature style is to layer jewelry, I was really taken by this look. I love the sporty dress…and how she played up that element even more with a t-strap tank underneath in a totally offbeat colour. This sporty-stylish vibe is Vancouver fashion done right. Major street style envy indeed!
Currently I'm street scouting in NYC and can't wait to share it all with you.
'Till next time friends 🙂