After all the heavy rain we've had in Vancouver, summer is officially winding down and we're easing into Fall. In fact, for the past week my Instagram feed has been filled with scarves, wide-brim hats, and duster coats. It (not so secretly) makes me very happy! This is my favourite time of year for fashion, especially September when the weather transitions and fall trends are top of mind. Jeremy and I are also heading to New York Fashion Week this Friday, so we're in serious outfit prep mode, and quickly transitioning our wardrobes with must-have fall trends. Whether you're heading to Fashion Week or barely leaving the comfort of your 9-5 desk, there are some key fall accessories you'll want to invest in for the coming months.
1. The Striped Scarf
Paris Fashion Week's, InStyle says that Balenciaga's striped scarf is a great mix of preppy and pretty, with a unique design that makes it easy to wear with just about anything. The scarves also come in a variety of colors, perfect for both the workplace and a night out. My personal favourite for fall is the Aritzia blanket scarf (pictured below) because it comes in so many prints and colours.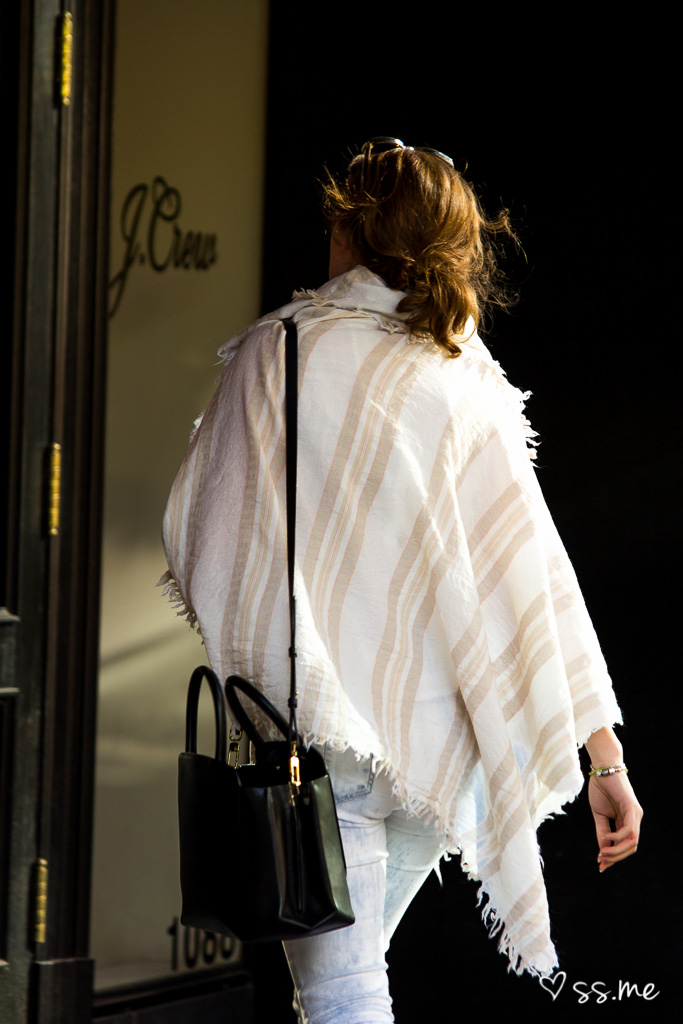 2. The Fuzzy Clutch
The fuzzy clutch appeared in Stockholm Fashion Week, and according to Lyst, everything fuzzy – whether it be bags, hats, shoes and scarves – is back for fall. You might not be one for a bit of fuzz in your hat or in your shoes, but the fuzzy clutch is a great way to add that element into your wardrobe without going overboard.
3. The Satin Headband
Chanel really made a statement with the classic headband this year. Fashionisers says that there were several different kinds of headbands that appeared in this year's Autumn/Winter collections, with some leather headbands from Proenza Schouler and Fendi, but the classic look of Chanel's satin headbands were my favourite take on it. They're easy to match with any outfit, as they come in neutral colours and their simple design add interest without being too over the top (like this one pictured below from IWEARTHEHEADDRESS).
4. The Pendant Necklace
Everyone needs a good piece of jewelry to accessorize, but this year, the theme seems to be "go big or go home." As InStore explains, one of the highlights of the jewelry range was Tory Burch's pendant necklace, "a capricious geometric fringe pendant necklace, hanging below the waist (so more than 36 inches), in gold-tone and color". It seems a bit outlandish for everyday, but coupled with the neutral colors and cuts of autumn, the pendant can really tie an outfit together. If you don't want it to be too over the top though, you can always opt for a smaller version and still get that fall-friendly luxe touch (as pictured below).
5. The Wide-Brimmed Hat
The wide-brimmed hat will be your best friend this season as its classic style adds insta-chic to any look. If you're looking for that classic look, Lanvin's wide-brimmed hats are the perfect accessory to add to your wardrobe. You can see Lanvin's collection on Hazine, who affectionately says that the collection brings images of "Black and white movies of the female spy" to mind with its "lustrous fabrics on display, feathers, fur and velvet, wrapped up in a tassel fit for the Palace of Versailles itself".