Last week  we launched an exciting series called "Walk a Mile in the Blogger's Shoes" in partnership with two local fashion bloggers and Ella Shoes. In launching this series, I really want to bring to light another side of blogging that we don't get to see very often…the business side of it.
This week I'm interviewing Jessica Luxe. She's one of my favourite local bloggers because she has unapologetically bold style and an attitude to match. She's unafraid of trying new things and has been climbing the blogging ranks ever since we met her over a year ago. Her outfits have made an appearance on our blog more times than I can count but we've never heard her take on the business side of blogging. Read ahead for her interview and check out how she styled her Ella shoes for spring.
What inspired you to start blogging? Give us the goods.
To be honest, I had just moved to the city from Squamish for university and I was totally alone for the first time in my life. I had no friends and no hobbies. I started following blogs in LA and New York and their eccentric style really resonated with me and I started to use fashion to sort of discover myself in this new period of my life. When I found out none of the local bloggers had style like mine, I saw a niche and started blogging.
How has your blog changed since you first started out? Do you feel like you've taken strides?
I hope it has! But really, it has; if you go way, way back you'll see what I mean.
Looking back, I can see the strides, although at the time it was probably felt more like stumbling.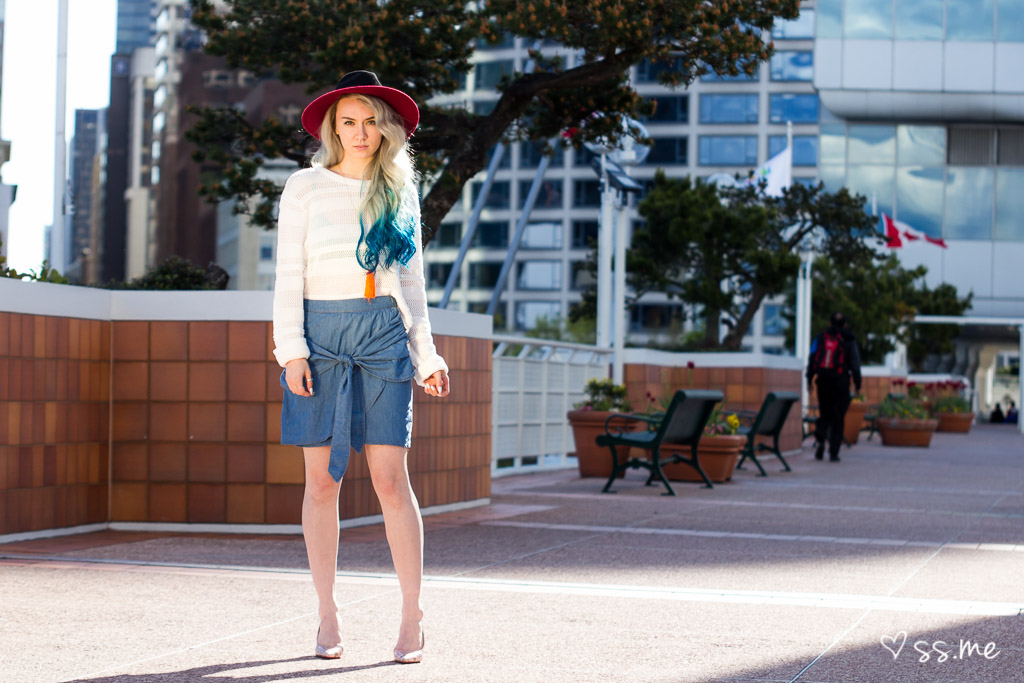 What personality or trait has helped you go further in the blogging business and climb the 'social' ranks?
I went to university for business and you learn how to present yourself in public, make eye contact and a memorable impression. I'm also a naturally outgoing person so that definitely helps.
Ironically, the trick is to be genuine and confident. I love meeting and getting to know people in the industry. They can sense that, so they send the love right back.
What's a day like in your shoes? Is blogging all fun and games like everyone says it is?
Hell no. Every day there are dozens of emails that need a dedicated response and you need to juggle hair, makeup, styling, photoshoots, write ups and social media maintenance on top of all that. Sometimes I forget to eat!
As a blogger, you're basically doing the jobs of eight people at once in your busiest day.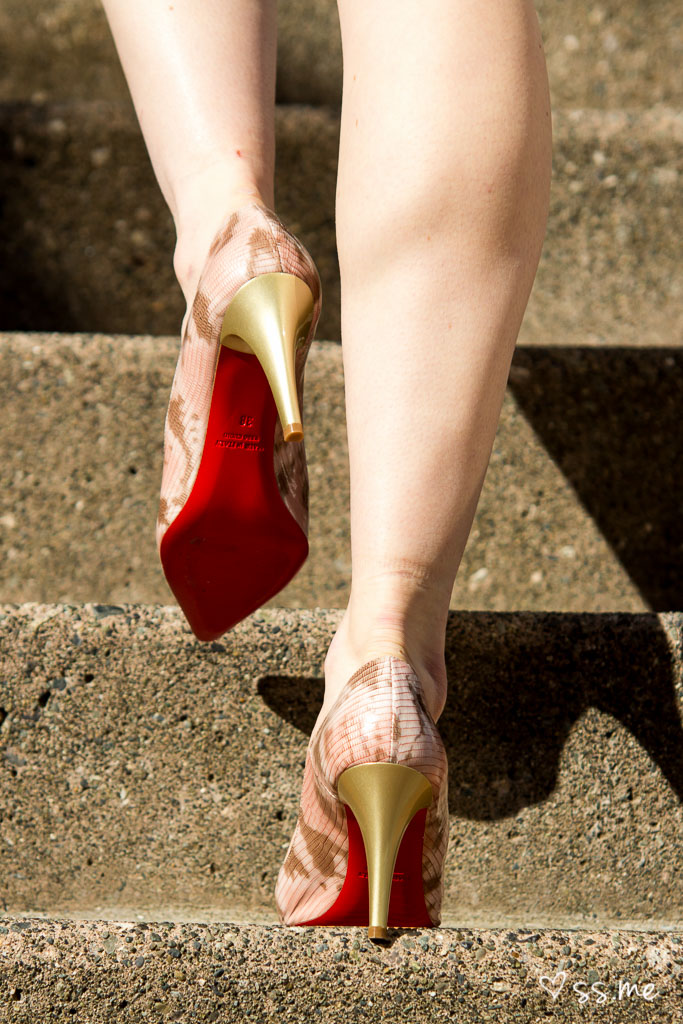 What's been the most humbling experience in your blogging career so far?
Nothing trumps a complete stranger having the guts to introduce themselves to you because they love your blog. Nothing.
The business of blogging is kind of like the wild west. What is one big change you'd love to see within the industry?
I have a lot of opinions about the subject, but basically everyone involved should be honest and respectful about all aspects of blogging.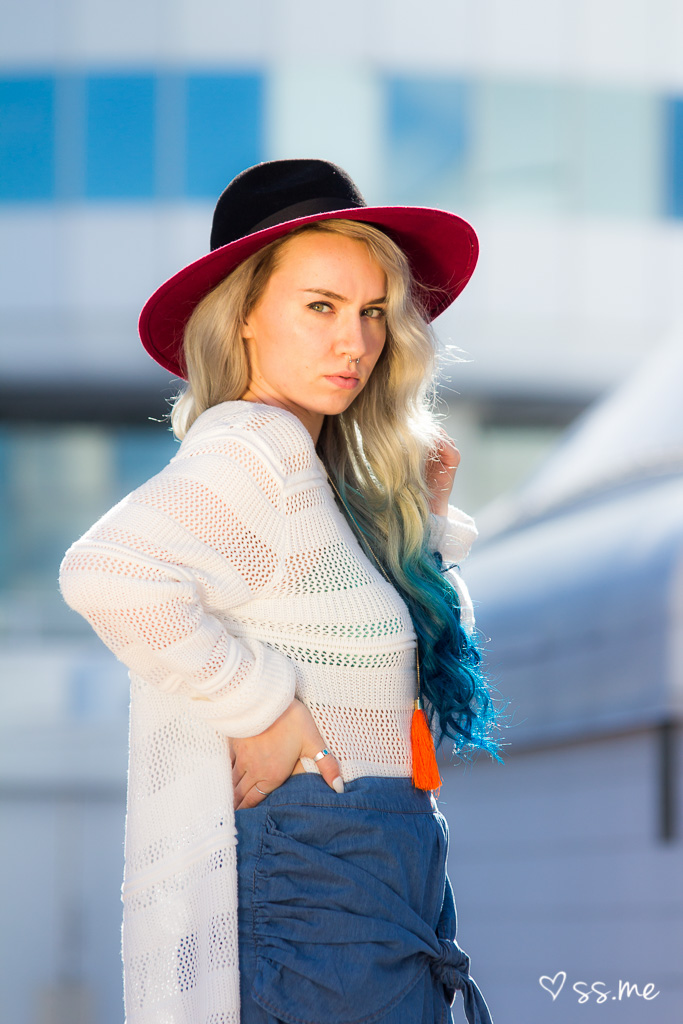 What's a word of advice you would tell someone new to the blogging game?
Always be polite and have patience.
How would you describe your personal style? And how has it evolved since you started blogging?
Chameleon. I used to be kind of a spaz, my style is definitely more tailored now.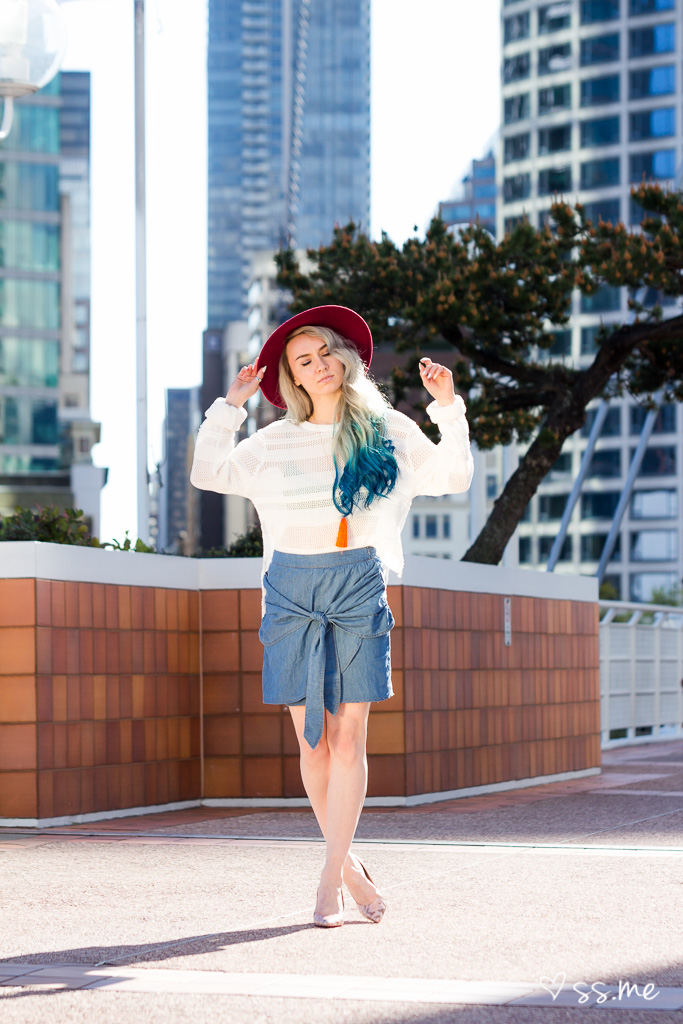 What trend do you have your eye on for spring?
Lace up detailing.
Why are shoes so important to your personal style and what do you look for when picking out the perfect pair?
Because they change the entire attitude of an outfit.
Denim skirt with heels: chic and sophisticated
Denim skirt with boots: cowgirl/ bohemian
I look for versatility, if I can wear it with pants or a skirt, they're perfect for me.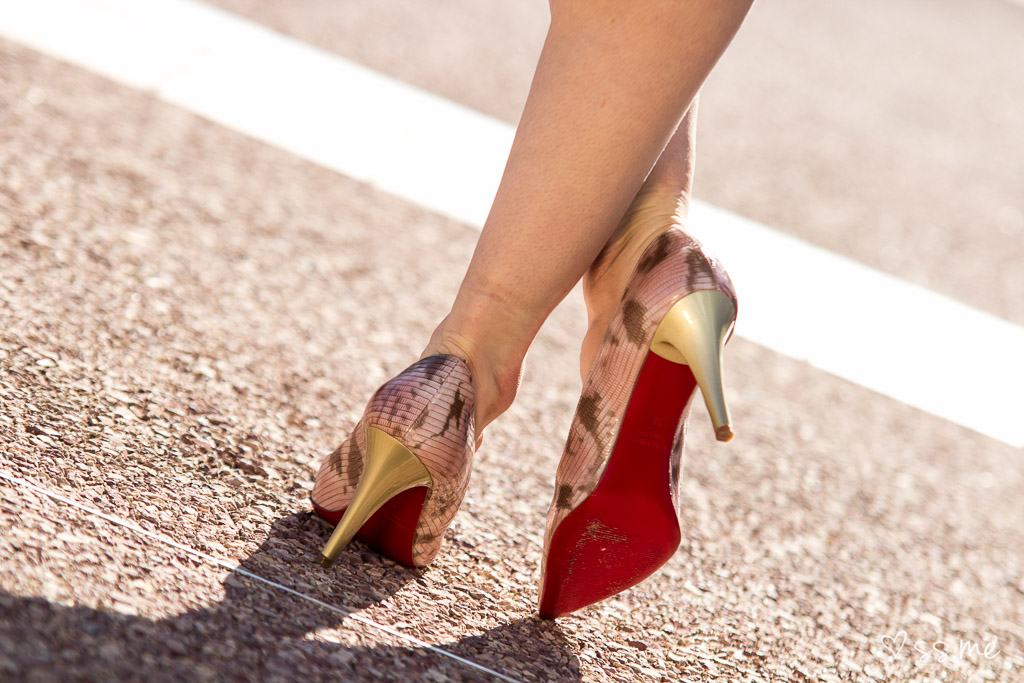 What inspired you to style your Ella shoes with this outfit?
I've been slowly taking my style in a new direction, so I picked a pair of pointy toed pumps for a look I might've worn with platforms a year before.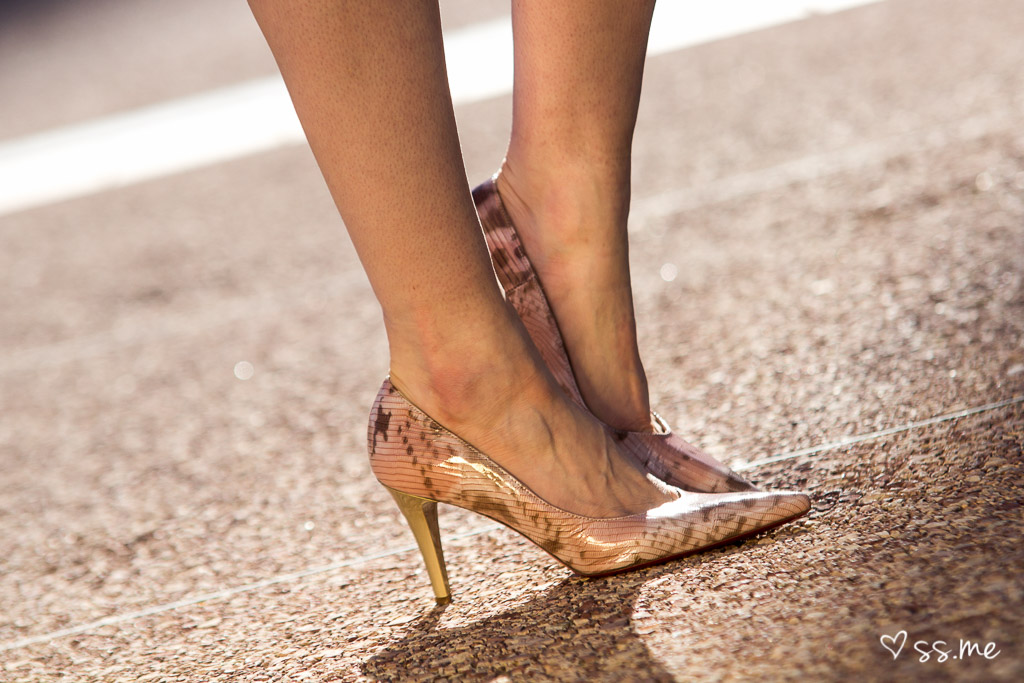 As a blogger, what are the three things you can't live without?
Instagram, my hair colourist and a thick skin.
What would be your dream collab for the blog?
Doing an editorial for Anya Hindmarch!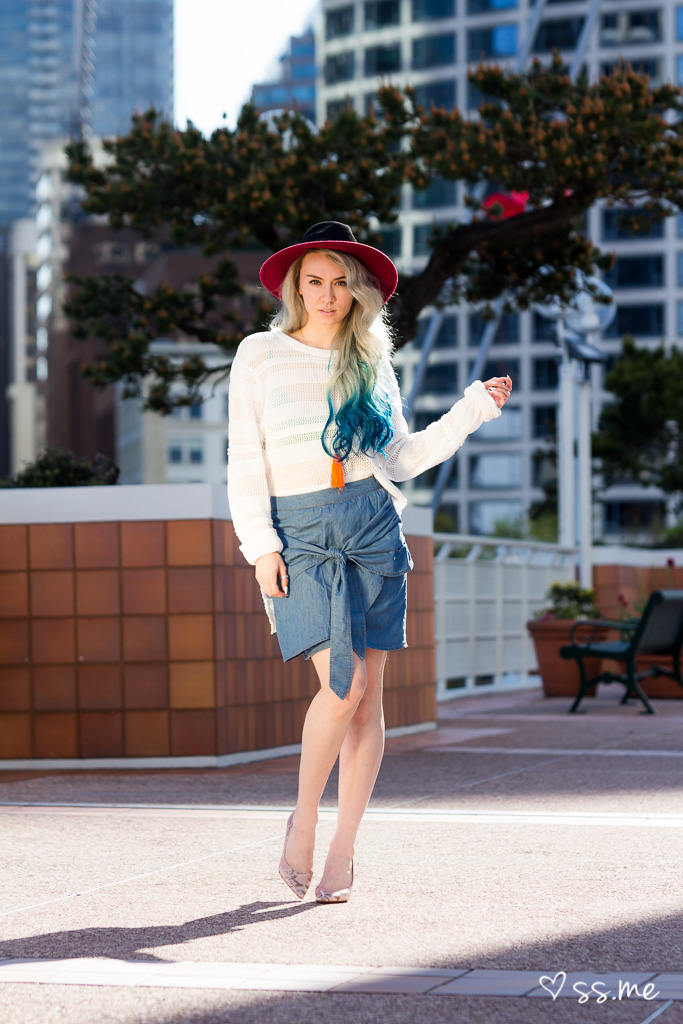 We all know it's not the destination that matters…it's the journey. What do you hope to accomplish on your blogging journey?
To be an entrepreneur and live every day of my life loving what I do and inspiring others to do the same.
Head on over to Jessica's blog for more photos and her take on the blogging biz.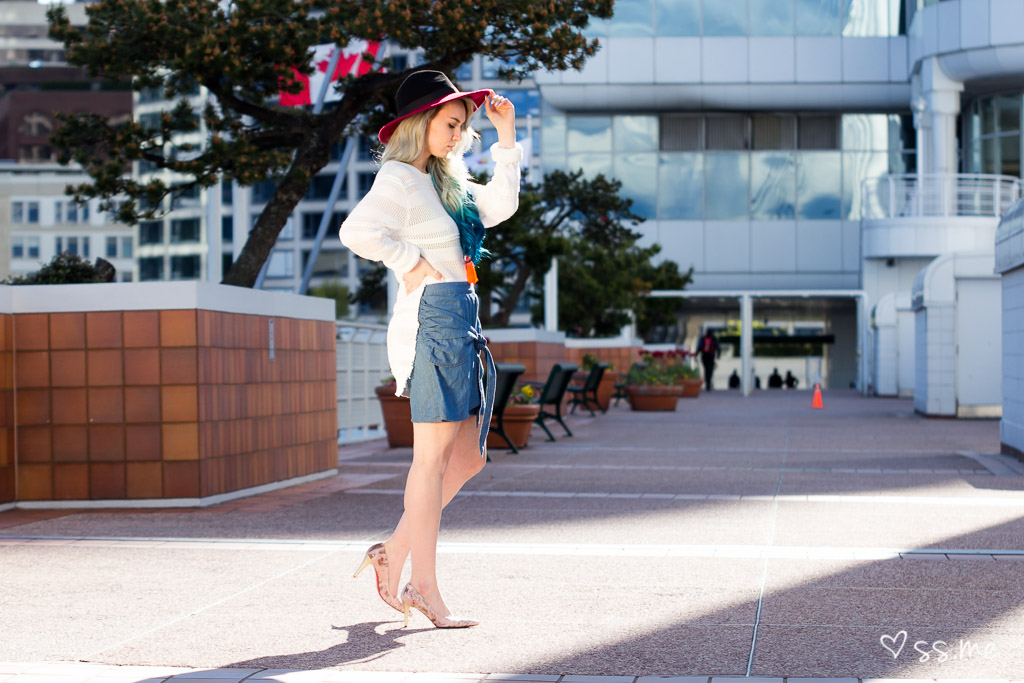 Thanks to Ella Shoes for partnering up with us on this post!